What You Need to Know About HVAC Warranties: Protecting Your Investment
May 30, 2023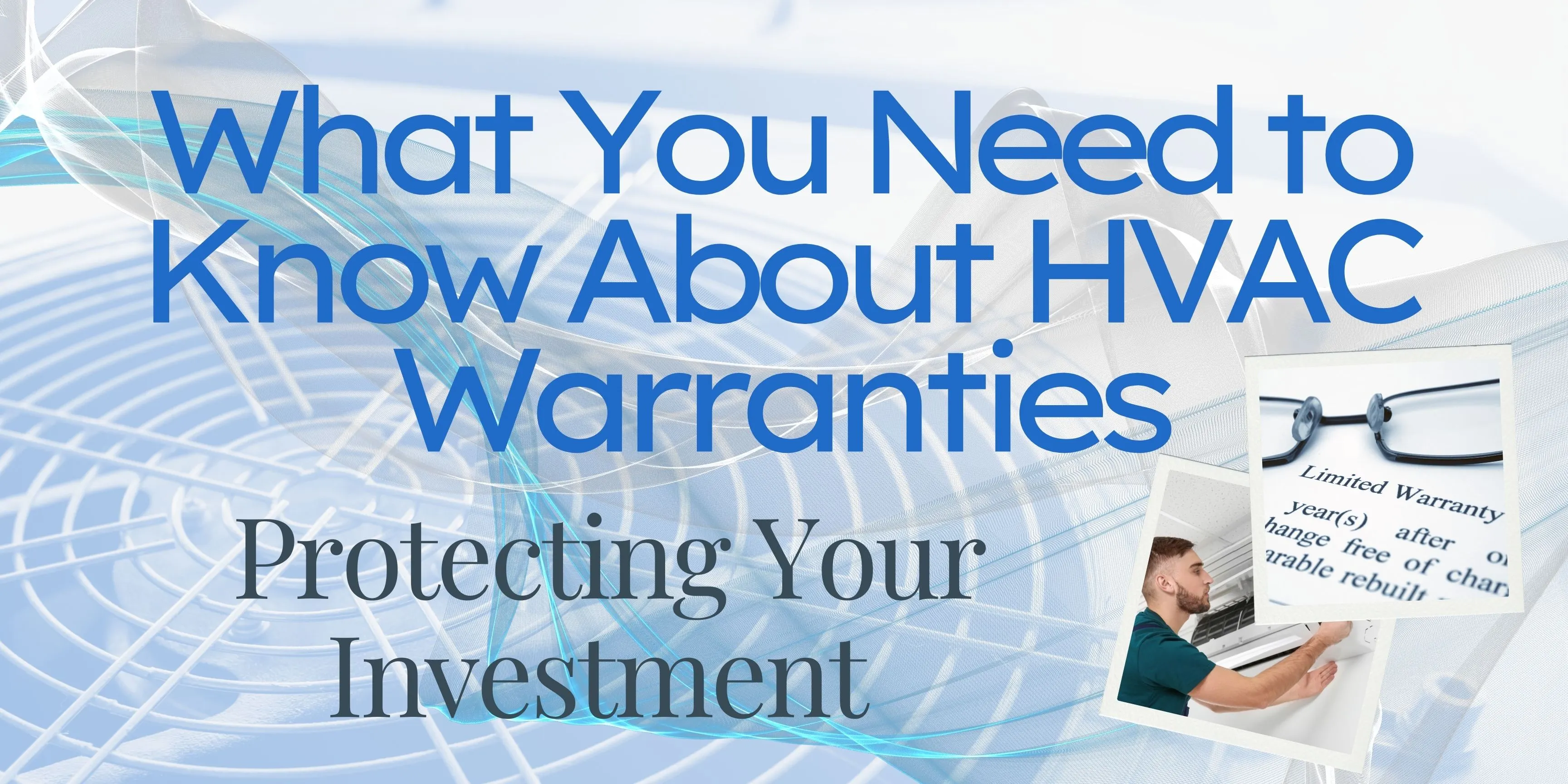 HVAC systems are a significant investment in your home or business, and a warranty is an important consideration when choosing a new system. While warranties can provide peace of mind and protection against unexpected repairs, it's important to understand the terms and conditions of the warranty before making a purchase. In this blog post, we'll explore the ins and outs of HVAC warranties and what you need to know to protect your investment.

What Is an HVAC Warranty?
An HVAC warranty is a contract between you and the manufacturer that outlines what is covered in case of defects or other issues with your unit. These warranties can range from one to ten years, with some manufacturers offering extended warranties for an additional fee.
Types of HVAC Warranties
There are two main types of warranties offered for HVAC units: parts warranties and labor warranties. Parts warranties cover the cost of replacement parts, while labor warranties cover the cost of labor to repair or replace the parts. Some manufacturers may offer both parts and labor warranties, while others may offer them separately.
What to Look for in an HVAC Warranty
When shopping for a new HVAC system, it's important to understand what the warranty covers and how long it lasts. Here are some things to consider when reviewing HVAC warranties:
Length of warranty: Look for a warranty that offers a long-term guarantee, ideally covering the unit for at least 10 years.
Coverage: Understand what is covered under the warranty, including parts and labor. Some warranties may exclude certain parts or only cover parts for a limited time.
Transferability: If you plan to sell your home, a warranty that is transferable to the new owner can increase the value of your home and provide added peace of mind.
Maintenance requirements: Some warranties require regular maintenance, such as annual tune-ups, to remain valid. Be sure to understand these requirements and factor them into your maintenance plan and budget.

Why HVAC Warranties Are Important
An HVAC system is a significant investment, and unexpected repairs can be costly. Having a comprehensive warranty in place can provide peace of mind and help protect your investment. In addition, some HVAC manufacturers may require regular maintenance as a condition of the warranty, which can help extend the life of your unit and improve its efficiency.
Conclusion
When shopping for an HVAC system, it's important to understand the warranty offered by the manufacturer. By considering the length of the warranty, coverage, transferability, and maintenance requirements, you can choose a system that provides the protection and peace of mind you need. At Cooling Cloud HVAC, we offer a range of HVAC systems with comprehensive warranties to ensure your comfort and satisfaction. Contact us today to learn more.